Email alerts
Receive periodic updates of the latest contents
published in the journal.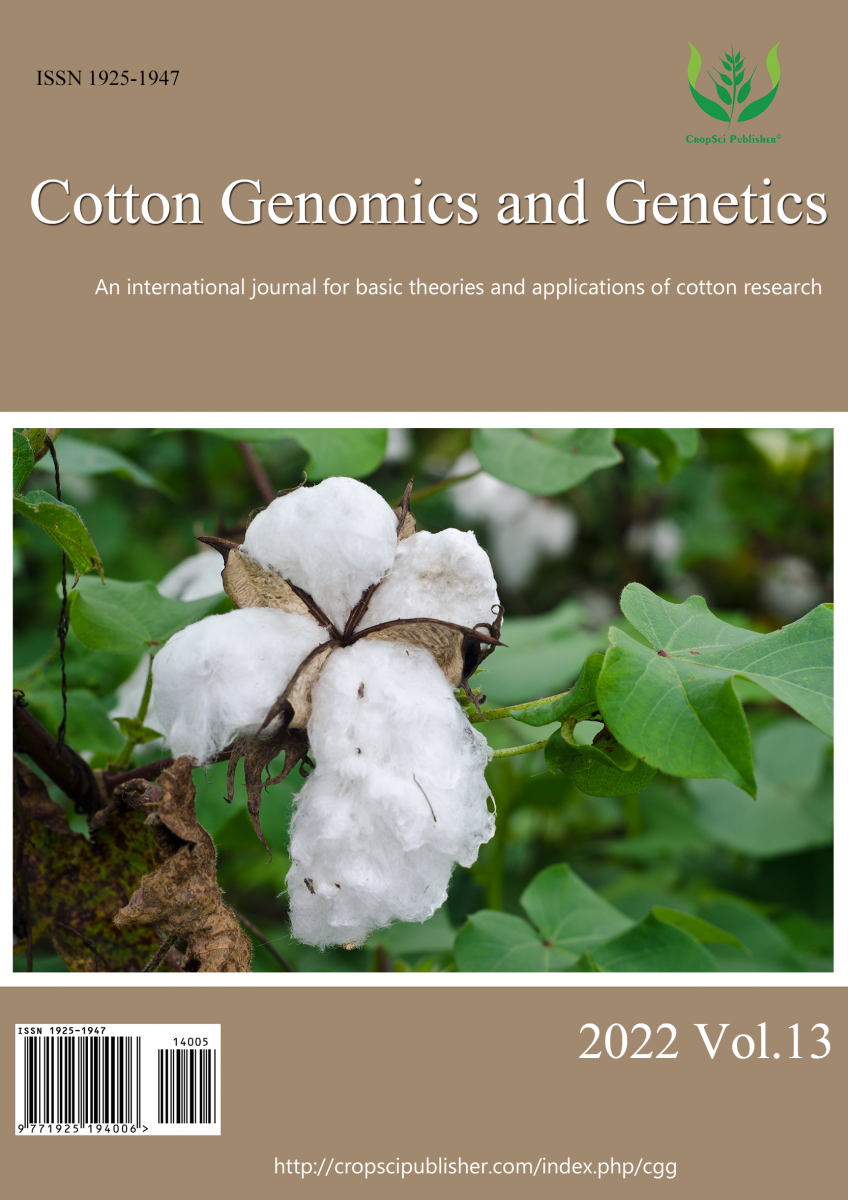 Cotton Genomics and Genetics (ISSN 1925-1947) is an open access, peer reviewed journal aiming to provide a forum for the dissemination of high quality papers within all aspects of cotton sciences, focusing on the basic theories, novel techniques, and the applications related to genetics, structural & functional genomics, and comparative genomics as well as proteomics.
Cotton Genomics and Genetics is published independently by CropSciPublisher. All papers published in this journal are licensed to all users under the terms of the Creative Commons Attribution License.
Cotton Genomics and Genetics (ISSN 1925-1947) is archived in Library and Archive Canada and deposited in CrossRef. The Journal has been indexed by ProQuest as well.
Cotton Genomics and Genetics is published online by the CropSciPublisher, an independent publishing platform in life science based British Columbia of Canada. The CropSciPublisher applies the Creative Commons Attribution License (CCAL) to all works published in this journal. Under the terms of CCAL, authors retain ownership of the copyright for their article and have granted to any third party to reuse, reprint, disseminate and unlimited download, provided the original authors and source are right cited. No permission is required from the authors or the publishers.
There is a cost for the establishment and operation of periodicals in CropSciPublisher. The CropSciPublisher publishing platform levies Journal Operating Costs (JOCs)from the operators of the periodicals, which are used for renting the network space, upgrading and maintaining the journal publishing system, the cost of publishing database ,daily operation and the maintenance of the publishing platform.
CropSciPublisher recommends that journal operator covers the cost by collecting article processing charges (APCs) from authors and let the research results be freely accessed by readers and collected institutes. The standard article processing charges are recommended to be 1200 CAD per article. However,Authors from low-income countries and areas or having financial difficulties can apply for the discount for APC upon submission. If the authors are qualified for the fees to be waived they don't necessarily pay the APC. We do not want fees to prevent the publication of worthy works.
Important announcement:The Executive Board of CropSciPublisher approved the exemption of Article Processing Cost for 2021. In order to support the development of this Journal, we encourage authors to donate voluntarily to the APC of this Journal. We appreciate your support.

Submission Online
Accepting submissions now